Spontaneous thrombosis of non-tuberculous pulmonary artery mycotic pseudoaneurysm in prolonged childhood pneumonia.
Keywords:
Paediatric, Pulmonary artery pseudo-aneurysm, Pulmonary infection, Spontaneous thrombosis
Abstract
Pulmonary tuberculosis (PTB) is common in tropical country like Malaysia. Prolonged PTB infection may lead to mycotic pulmonary artery pseudoaneurysm (PAP). We report a case of childhood non-tuberculous pulmonary infection causing mycotic PAP which resolved spontaneously after antibiotics therapy. 
A 1 year 6 months old girl underlying Down syndrome presented with prolonged fever for two weeks , cough and breathlessness. Her leucocytes count were elevated and she developed several hypotensive episodes secondary to septicaemia. Chest radiograph showed loculated right sided pleural effusion. Ultrasound revealed complex pleural collection and initial aspiration revealed a thick stale blood. Thinking of possible vascular cause, ultrasound able to locate a well-defined rounded structure with high flow velocity seen on Doppler ultrasound consistent with pseudoaneurysm and CT thorax confirmed the findings. Pulmonary artery angiogram prior to embolization revealed  no evidence of abnormal vasculature or contrast blush at the region of interest. Complimentary ultrasound showed evidence of spontaneous thrombosis within the pseudoaneurysm.
Non-tuberculous PAP is a rare but possible life-threatening sequela of pneumonia. Pleural drainage in a haemothorax with concomitant mycotic thoracic pseudoaneurysm may cause loss of pressure tamponade and will end up with devastating consequences. Careful ultrasound image acquisition must be made by the attending radiologist prior to pleural drainage.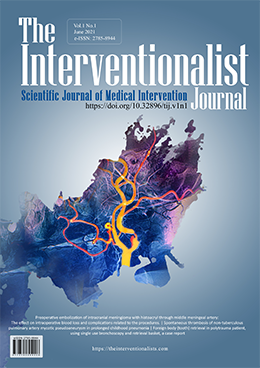 Downloads
How to Cite
Ibrahim, I., Mohd Yaakob, M. N. ., Zakaria, M. H. ., Tharek, A., Rahmat, N. S., Mohd Sabri, M. N., & Kamis, . M. F. A.-K. (2021). Spontaneous thrombosis of non-tuberculous pulmonary artery mycotic pseudoaneurysm in prolonged childhood pneumonia. The Interventionalist Journal, 1(1), 12–16. https://doi.org/10.32896/tij.v1n1.12-16