Lipiodol retention masquerading as talcum powder in Mammography
Abstract
Lipiodol (also known as ethiodized oil) is an iodinated poppy seed oil first synthesized in 1901 for therapeutic purposes. The use of lipiodol in lymphangiography in later date has gain popularity as this agent tend to retain in the lymphatic system as opposed to other iodinated hydrosoluble contrast media that diffuse out of lymphatic system rapidly. Over the course of several days and weeks, the iodine within the lipiodol is released by enzymatic cleavage and the fat molecules are degraded. In our case, there is retention of lipiodol in the left axilla which showed as group of round calcifications in Mammogram. This has raised the suspicion of talcum powder usage for the reporting radiologist without revisiting the past surgical and medical procedure. Even though lipiodol washout is a time-dependant process, it can retain in our body or site of injection as long as few years as evidenced in our case. 
References
Claus Christian Pieper, MD, Saebeom Hur, MD, Christof-Matthias Sommer, MD, et al. Back to the Future: Lipiodol in Lymphography - From Diagnostics to Theranostics. Invest Radiol 2019;54: 600–615. DOI: 10.1097/RLI.00000000000005782.
Wolff J. Physiology and pharmacology of iodized oil in goiter prophylaxis. Medicine (Baltimore). 2001;80:20–36.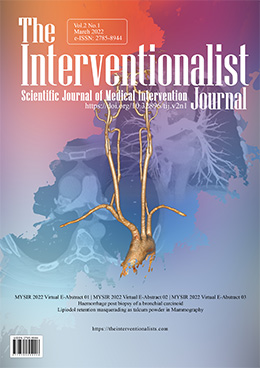 Downloads
How to Cite
Soo, T. H., Tharek, A. ., Ibrahim, I., Zakaria, M. H. ., Mohd Yaakob, M. N., & Kamis, M. F. A. K. (2022). Lipiodol retention masquerading as talcum powder in Mammography. The Interventionalist Journal, 2(1), 23–25. https://doi.org/10.32896/tij.v2n1.23-25
License
Copyright (c) 2022 The Interventionalist Journal
This work is licensed under a Creative Commons Attribution-ShareAlike 4.0 International License.