About the Journal
The Interventionalist Journal
The Interventionalist is a peer-reviewed open access medical journal for scientific works on image guided and interventional procedures.

Digital Archive
The articles published in The Interventionalist Journal, will be assigned with digital object identifier for online publication by Crossref, a multilingual European Registration Agency for DOI.
Current Issue
Vol. 1 No. 2 (2021): The Interventionalist Journal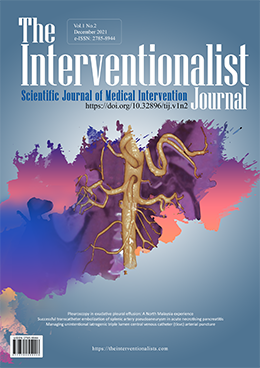 1. Dr. Arvindran Alaga, Respiratory Department, Hospital Sultanah Bahiyah, Alor Setar, Kedah, Malaysia.
2. Dr. Nasibah Mohamad, Department of Radiology, Health Campus of Universiti Sains Malaysia, Kubang Kerian, Kota Bharu, Kelantan, Malaysia.
3. Dr. Ezamin Abdul Rahim, Department of Imaging, Faculty of Medicine and Health Sciences, Universiti Putra Malaysia, Selangor, Malaysia.
View All Issues